EIC Chula - Engineering Innovator club at RoboCup 2023
3 Aug, 2023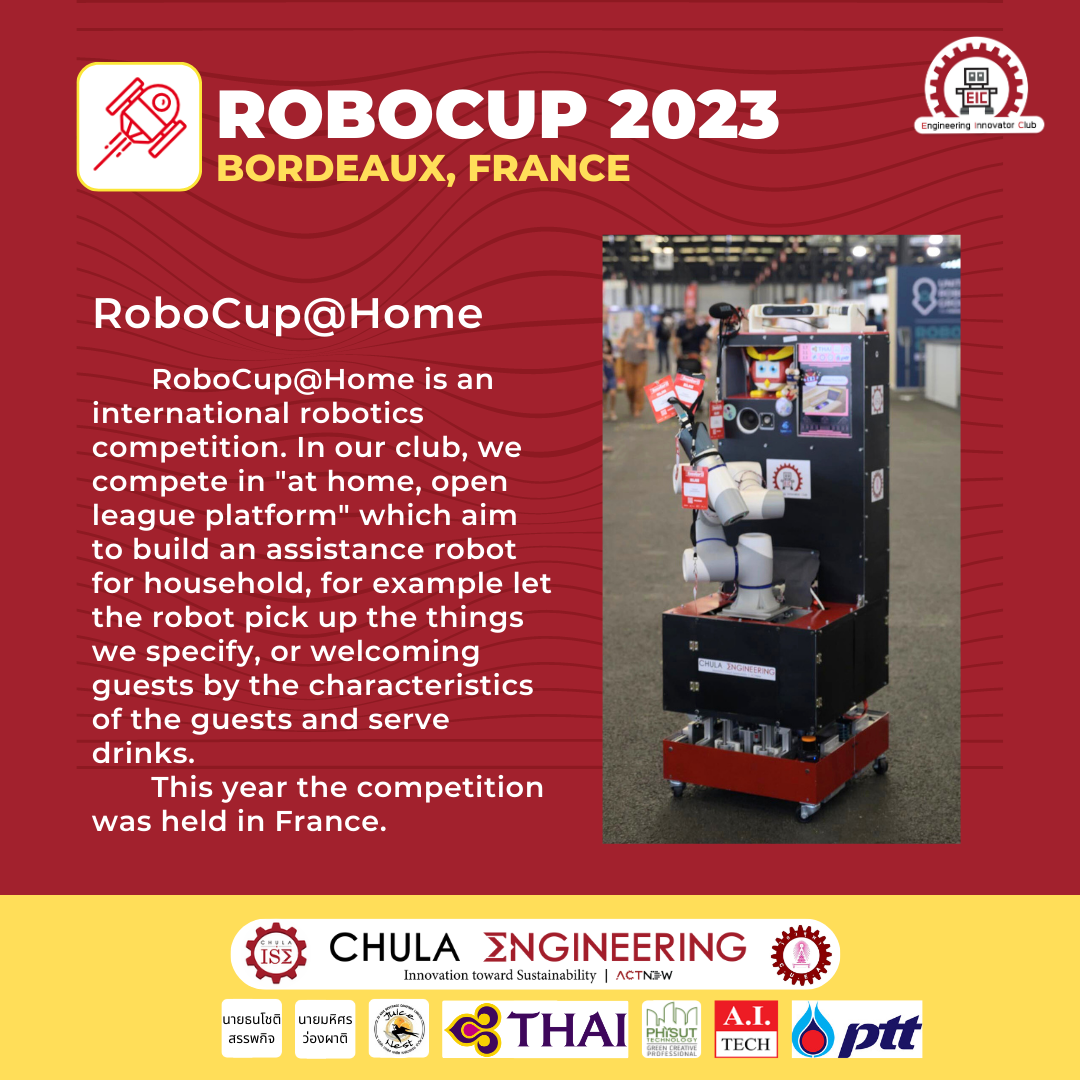 In the previous 8 - 12 July, team EIC_chula, a robot team from Engineering Innovator Club (EIC), had participated in Robocup@Home 2023 at Bordeaux, France and we obtained 14th place in the world in the RoboCup@Home Open League.

Since this is the first time competing abroad in a decade, we want to prioritize the ease of transporting our robot while maintaining its stability and structural integrity. To achieve this, we designed the robot to be easily split into multiple parts, added a suspension system, and introduced a novel lifting mechanism that improves strength and stability compared to last year's design. The electrical aspect of the robot has also undergone significant changes to enhance sensor detection range and response time.

As for the software side, our Natural Language Processing (NLP) has transitioned from to fully offline models. OpenAI Whisper has resulted in more accurate and faster speech-to-text compared to last year. For the Robot Operating System (ROS), we have created our own open-source package that stores and visualizes furniture data in the house as a 3D model. Moreover, we are working on an experimental grasping workflow for our robot arm.

The highlight this year is the development of a method for synthesizing datasets for keypoint detection using Blender. This method has proven to be much easier, faster, and more reliable compared to traditional methods during the competition. As a result, our team is aiming to submit a conference paper about this method in the near future.

The team has granted a lot of valuable experiences from this competition, which is certain to be useful for the junior members and for participating in the next competition. Even though we may not have received the victory this year, it was nonetheless a journey that was full of growth and accomplishment.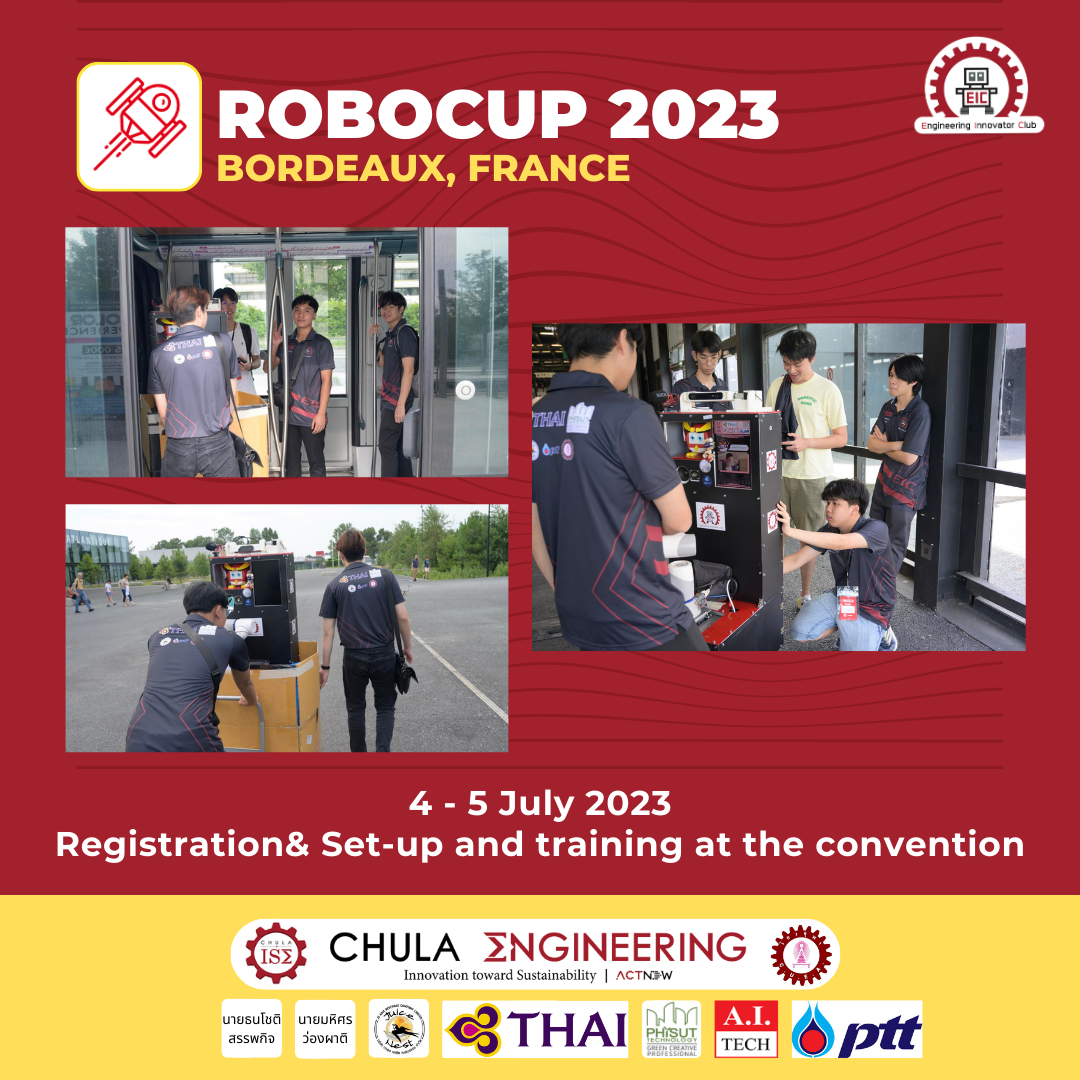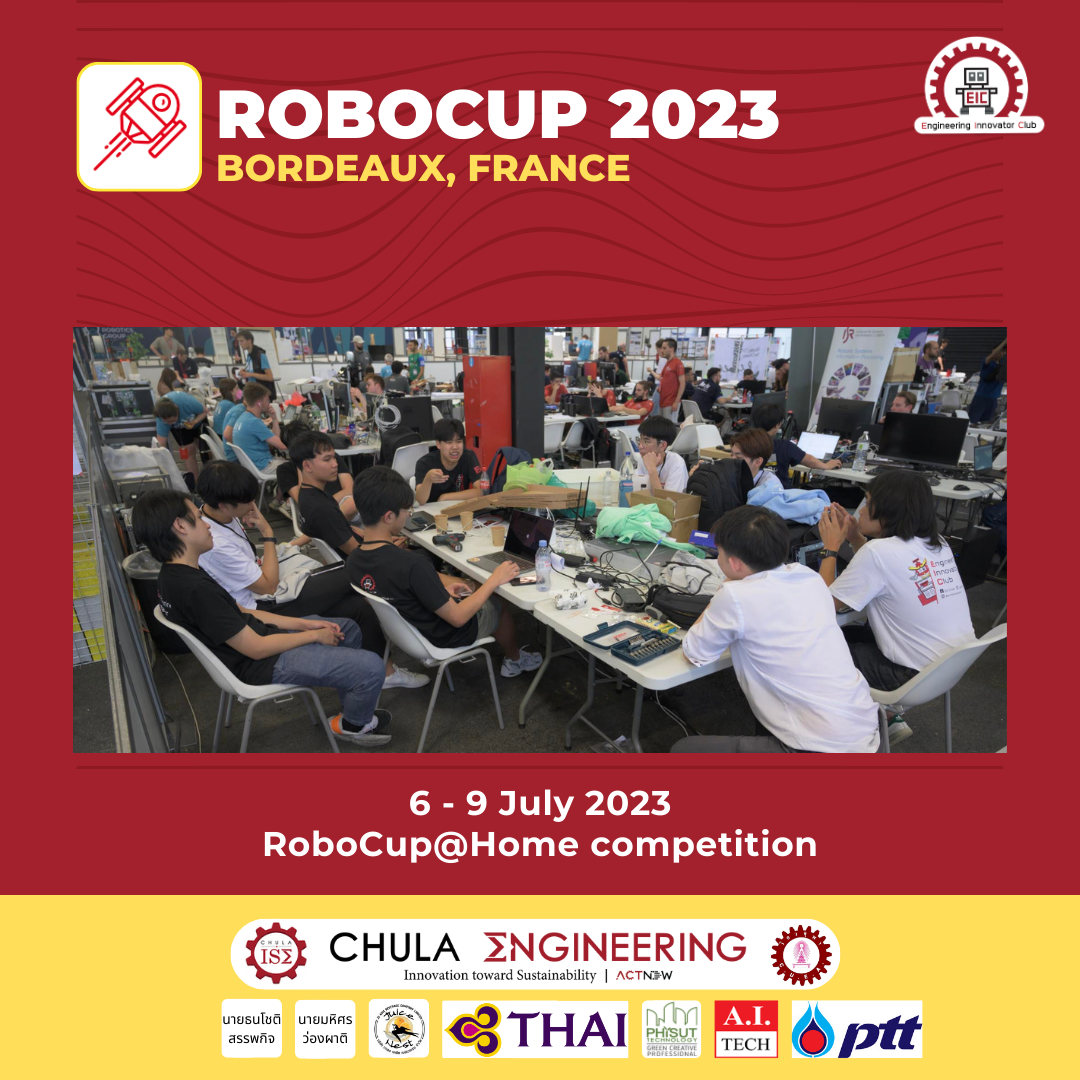 Our deepest gratitude for your support for our students from the generous sponsors:

1. International School of Engineering (ISE), Chulalongkorn University

2. Thai Airways Co., Ltd.

3. Phisut Technology Co., Ltd.

4. Chulalongkorn University Engineering Alumni (CUEA)

5. JS Asia Beverage Co., Ltd.

6. Mr. Thanachot Sappakit, our late club president

7. PTT Public Co., Ltd.

8. A.I. Technology Co., Ltd.

9. Mr. Mahisorn Wongphati, our alumni
We are honored to have you, and we hope that you will continue to support us in the future.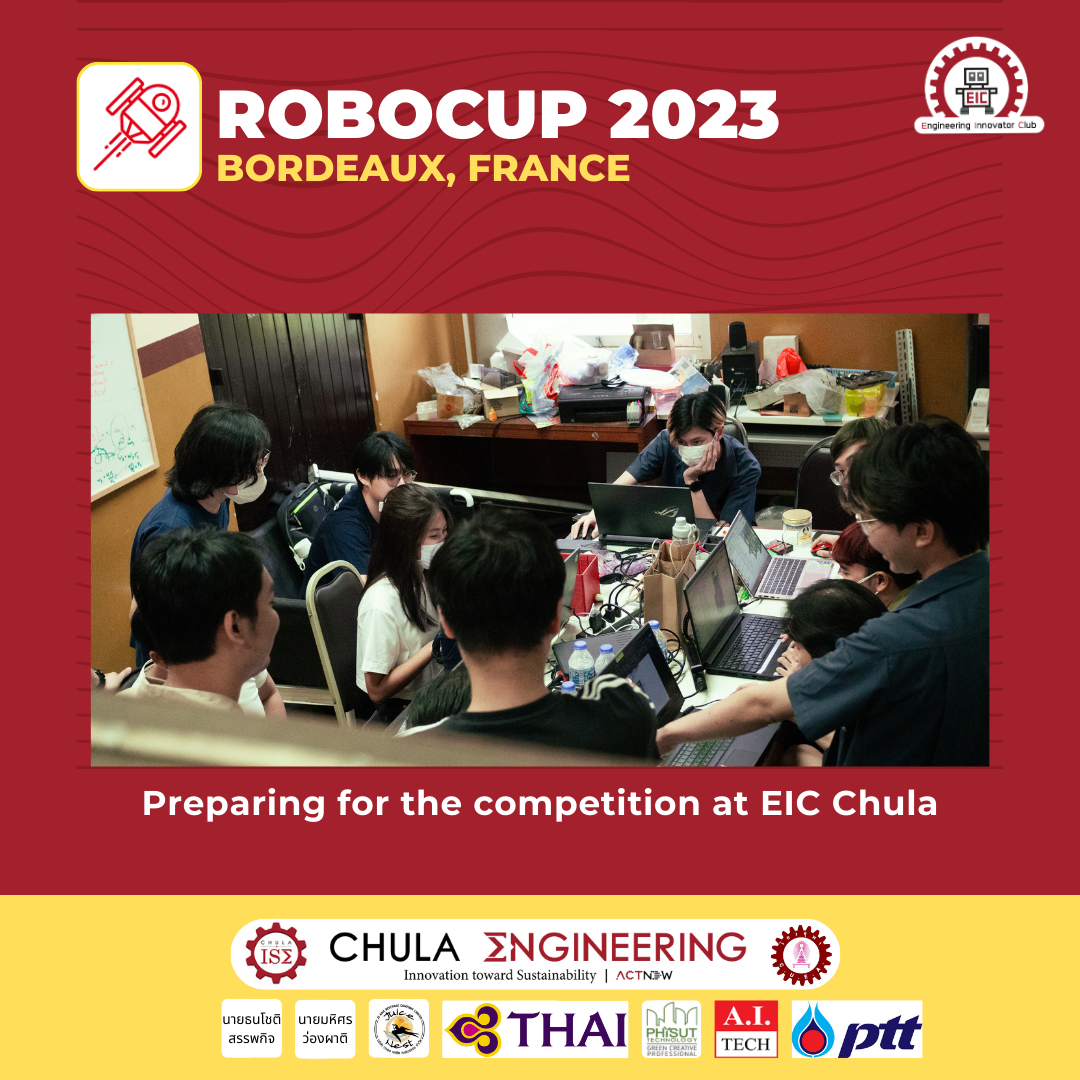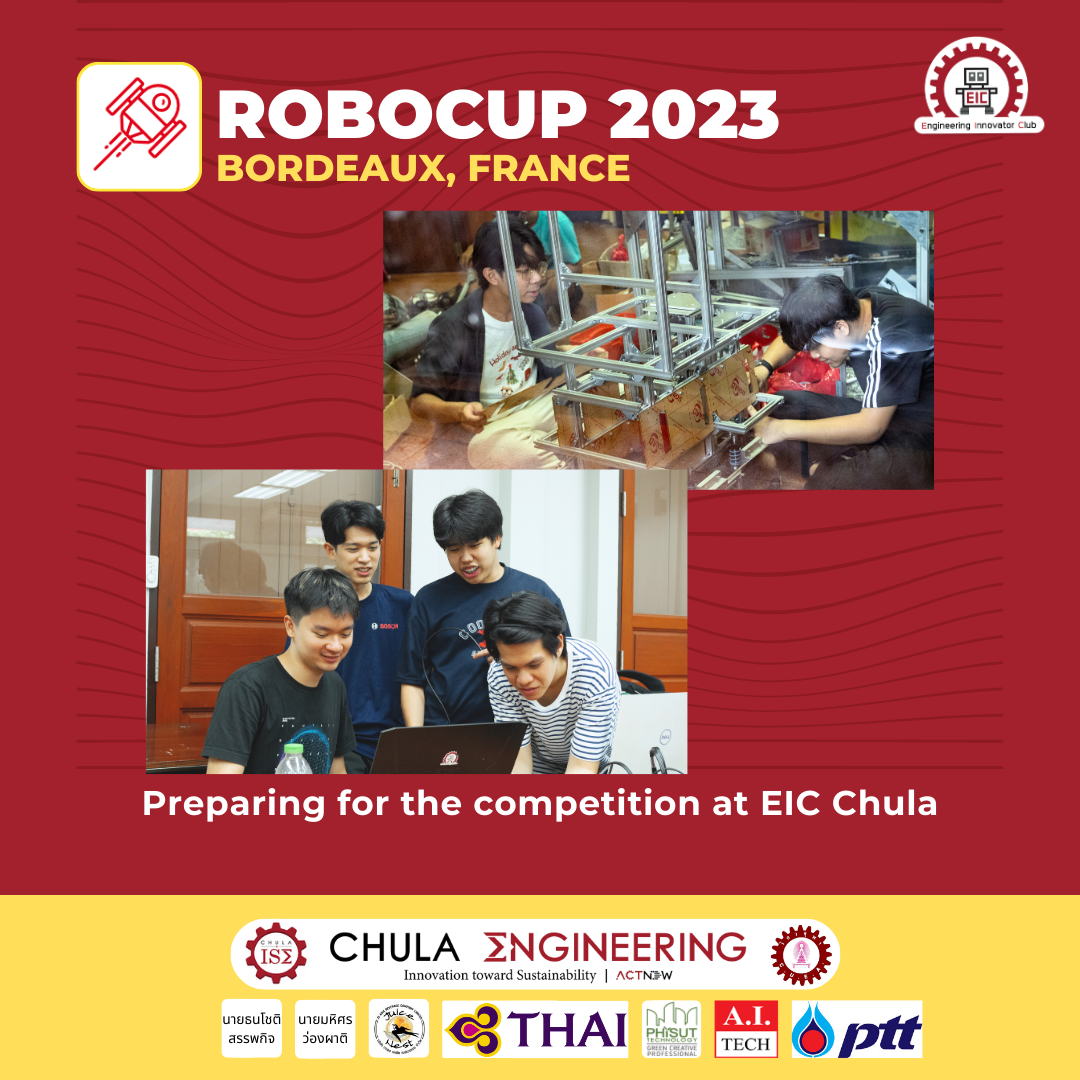 The team Representative to RoboCup 2023 at Bordeaux, France

1. THANAKORN SAPPAKIT
2. NATHAMPAPOP JOBSRI
3. TANAKRIT SUETRONG
4. SUPPAKIT LAOMAHAMEK
5. CHAYAVICH ASAVAKANOKSLIP
6. SIRAPOB PRATIPNATSIRI
7. WASIN LAPTHANAPHAT
8. BHAMMANAS PRAESANGEIM
9. TINAPAT LIMISILA
10. THEPPASIT LUANGSIRITANYA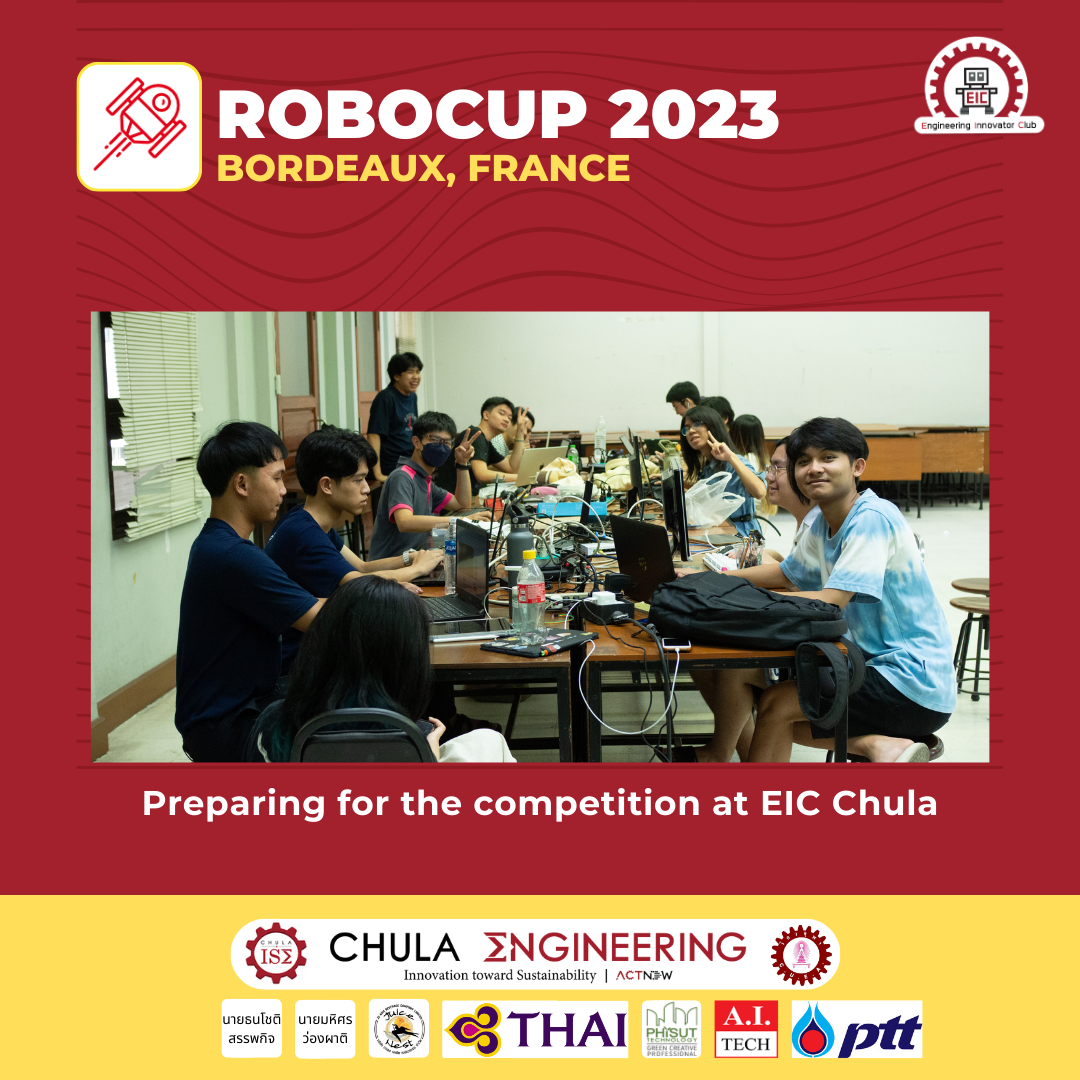 Furthermore, we extend our great appreciation to all team members in our club for their valuable contributions. Additionally, we are grateful to Assoc. Prof. Ronnapee Chaichaowarat for his kind advice in robot designing, assistance in finding us the practice room, and his support during the convention. Their involvement significantly contributed to our achievements.


Follow us to keep updated about our club and read more in details:

facebook: eic chula - ชมรมหุ่นยนต์จุฬาฯ

instagram: walkie_eic

website: eicrobocup.com